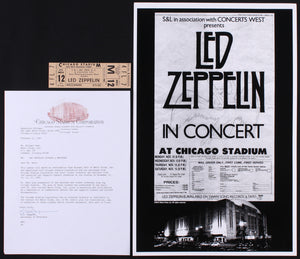 Formed in 1968, Led Zeppelin consisted of vocalist Robert Plant, guitarist Jimmy Page, bassist/keyboardist John Paul Jones, and drummer John Bonham. Along with Black Sabbath and Deep Purple, the band's heavy, guitar-driven sound has led them to be cited as one of the originators of heavy metal. Their style drew from a wide variety of influences, including blues, psychedelia and folk music.
Many artists have cited Led Zeppelin as a heavy influencer in creating their own music. Artists like Foo Fighters, Smashing Pumpkins, Nirvana, Lady Gaga, and Jack White have all acknowledged Led Zeppelin as a main musical influence.
After having four of their albums inducted into the Grammy Hall of Fame, the band won its first competitive Grammy Award for Best Rock Album in 2014 for their album Celebration Day, based on the live concert film of the same name.
Lot of (2) items include (1) unused Led Zeppelin Chicago concert ticket dated between November 10-15, 1980 and (1) concert advertisement print that measures approximately 11" x 17" in size. A letter from the Chicago Stadium Corporation is also included for authenticity purposes. Note that the items included are unsigned.