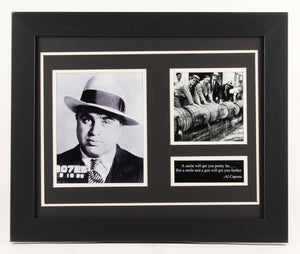 Al Capone was an American gangster and businessman who attained notoriety during the Prohibition era as the co-founder and boss of the Chicago Outfit. Commonly known by the nickname "Scarface", his seven-year reign as a crime boss ended when he went to prison at age 33.
Capone apparently reveled in the attention, such as the cheers from spectators when he appeared at ball games. He made donations to various charities and was viewed by many as "modern-day Robin Hood". However, the Saint Valentine's Day Massacre, in which seven gang rivals were murdered in broad daylight, damaged Chicago's and Capone's image, leading influential citizens to demand government action and newspapers to dub Capone "Public Enemy No. 1".
Custom framed photo display measures approximately 19 1/2" x 23 1/2" in size and features (2) photos of Al Capone as well as a cut out with an Al Capone quote. Note that this item is unsigned.